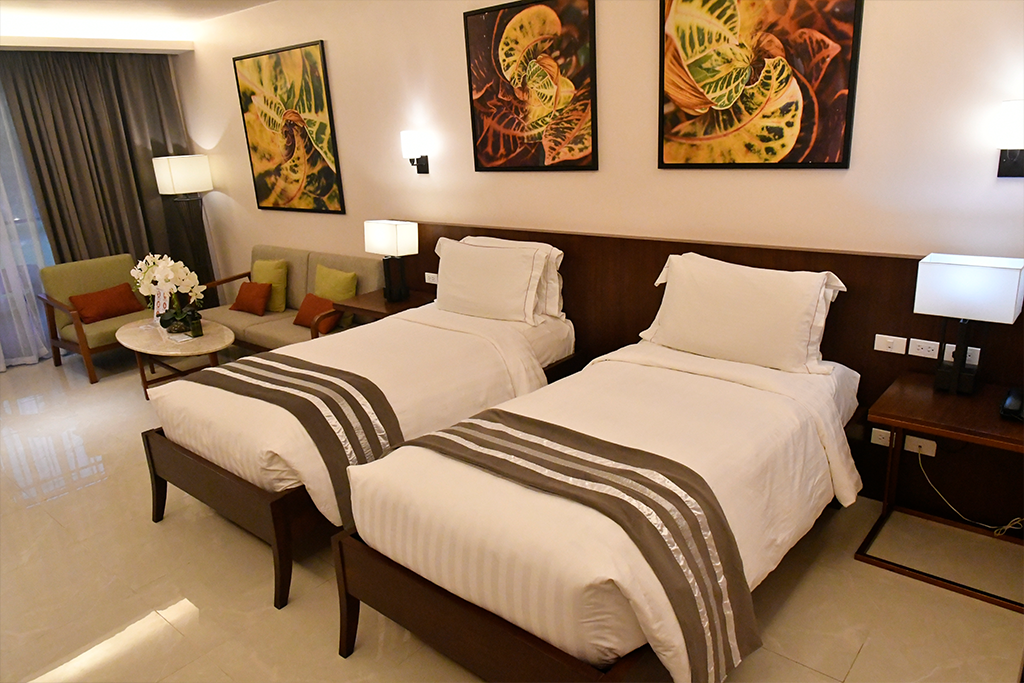 THE LAGOON TERRACE INTRODUCTION
The Lagoon Terrace is your sweet escape, located right next to the serene waters of one of Anvaya Cove's conspicuous attraction; the picturesque lagoon. Have a pleasant afternoon on the breezy veranda, or spend a relaxing day utilizing the wide array of conveniences available in the spacious room.
Each Lagoon Terrace has king and twin beds, as well as sofa bed, perfect for a restful night's sleep of the entire family. All rooms are air-conditioned and non-smoking to guarantee a fresh smelling room all the time.
Contact Us Today!
US Toll free: 1-877-7793-9000
Philippines: (02) 7793-9000
Mobile: (+63) 917-826-8292
Email: members@anvayacove.com
Monday to Sundays: 8AM-5PM (PHT)
THE COMFORT OF HOME CASITA INCLUSIONS
Anvaya Cove ensures that our members are given a warm, memorable stay within each Casita.
Thoughtfully-designed unit layouts
Open and flexible living space
Beautiful outdoor views
Maximized natural ventilation & light
All Rooms are air-conditioned and nicotine-free
TWIN BEDROOMTHE LAGOON TERRACE
MORE DETAILS ROOM AMENITIES
All Lagoon Terrace are Non-Smoking Rooms featuring the very best room amenities:
60.9 sqm, including the balcony
Views of lagoon
Living room
Veranda
Separate rain shower and bathtub
High-speed Wi-Fi internet access
Your bed:(Lagoon King-Sized)
Feather toppers, duvet and pillows
King size bed (Lagoon King-Sized)
Upright bed (extra bed)
Your bed:(Lagoon Twin-Sized)
Feather toppers, duvet and pillows
Twin bed (Lagoon Twin-Sized)
Upright bed (extra bed)
In your private bathrooms:
Toiletries
Encased Toilet
Bathtub
Encased Shower Area
Towels and bath mat
Bath robes
Hair Dryer
Facilities
Air Conditioning
Open Dresser
Media & Entertainment
48-inches Smart flat screen TV with Cable channels
High-speed Wi-Fi internet access
Office Equipment & Stationery
Telephone Services
Spacious Writing Desk
Refreshments:
Coffee and Tea set
Electric Kettle
Minibar Chiller
Bottled Water
Hygiene Set-up:
Safety & Security:
Safety Deposit Box
One Tap Key Card Door Lockset
Fire Extinguisher