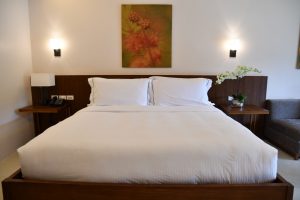 THE LAGOON TERRACE INTRODUCTION
The Lagoon Terrace is your personal hideaway right next to the tranquil waters of one of Anvaya Cove's most well-known attraction, the picturesque lagoon. Enjoy a cozy afternoon on the daybed in the windy veranda, or spend relaxing moments enjoying the wide array of conveniences available in the spacious room.
Each Lagoon Terrace has king and twin beds for the entire family, as well as a sofa bed, all perfect for a restful night's sleep. All rooms are provided with essential amenities; soft linens and towels, iron and ironing board (available upon request), hairdryers, toiletries, and an encased shower. Safety deposit boxes ensure the security of our guests' belongings, and telephone services help guests stay connected with their companions. All rooms are air-conditioned and non-smoking to guarantee a fresh smelling room all the time.
Contact Us Today!
US Toll free: 1-877-7793-9000
Philippines: (02) 7793-9000
Mobile: (+63) 917-826-8292
Email: members@anvayacove.com
Monday to Sundays: 8AM-5PM (PHT)
THE COMFORT OF HOME CASITA INCLUSIONS
Anvaya Cove ensures that our members are given a warm, memorable stay within each Casita.
Thoughtfully-designed unit layouts
Open and flexible living space
Beautiful outdoor views
Maximized natural ventilation & light
All Rooms are air-conditioned and nicotine-free
TWIN BEDROOMTHE LAGOON TERRACE
MORE DETAILS ROOM AMENITIES
All Lagoon Terrace are Non-Smoking Rooms featuring the very best room amenities:
Twin Beds
Sofa Bed
Pull-Out Beds
Soft Linens
Lagoon Views
Private Veranda
Refrigerator
Mini Bar
Tea & Coffee
Towels
Hairdryer
Iron
Ironing board (available upon request)
Toiletries
Encased shower
Safety Deposit Boxes
Cable Television
Telephone Services
Wifi and LAN Connections