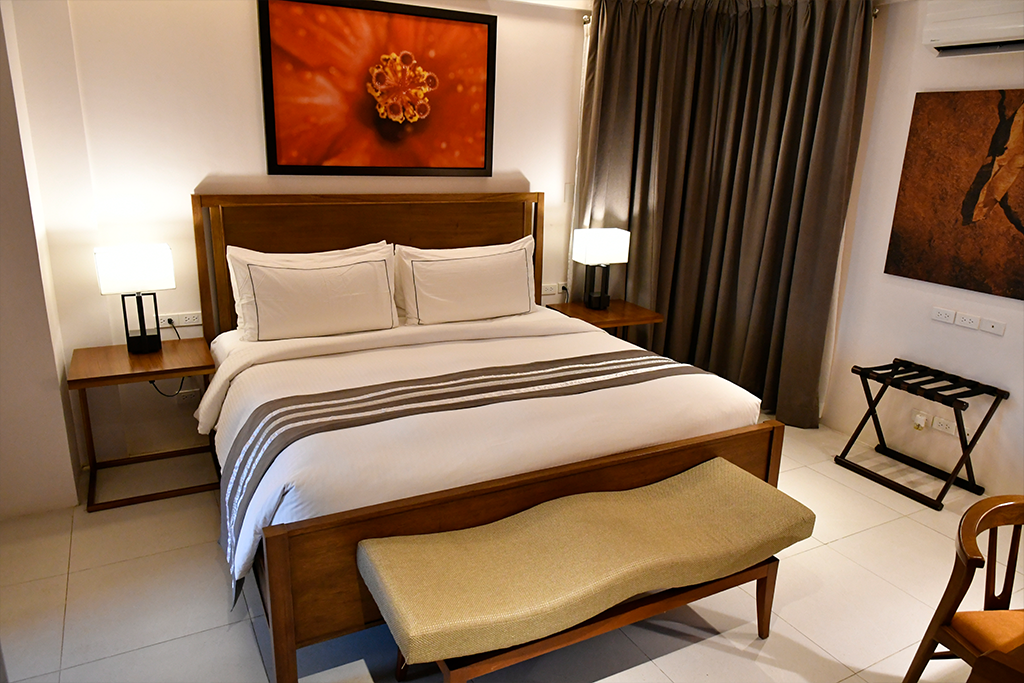 THE ANVAYA SUITE INTRODUCTION
The Anvaya Suite boasts of the best of what Anvaya Cove has to offer, ensuring maximum comfort and enjoyment for the entire family, for the most memorable vacation imaginable. The Anvaya Suite fronts an awe-inspiring view of the Anvaya lagoon, with still, calming waters perfect for relaxation.
Enjoy the spacious receiving area, or immerse yourself on the luxurious mattresses of the room's king-sized bed. Anvaya Cove ensures that our members are given a wide array of amenities. A leisurely afternoon could mean enjoying your missed-out movies from our cable television or just surfing the web through the freely provided room Wifi and LAN internet connections. Prepare tea or coffee at your pleasure, have a hassle-free snack from the well-stocked mini bar, or have a revitalizing drink from the bar fridge.
Contact Us Today!
US Toll free: 1-877-7793-9000
Philippines: (02)7793-9000
Mobile: (+63) 917-826-8292
Email: members@anvayacove.com
Monday to Sundays: 8AM-5PM (PHT)
THE COMFORT OF HOME CASITA INCLUSIONS
Anvaya Cove ensures that our members are given a warm, memorable stay within each Casita.
Thoughtfully-designed unit layouts
Open and flexible living space
Beautiful outdoor views
Maximized natural ventilation & light
All Rooms are air-conditioned and nicotine-free
KING BEDROOMTHE ANVAYA SUITE
MORE DETAILS ROOM AMENITIES
All Anvaya Suites are Non-Smoking Rooms featuring the very best room amenities:
90.1 sqm, including the balcony
Views of lagoon
Living room
Private veranda
Separate rain shower and bathtub
High-speed Wi-Fi internet access
Your bed:
Feather toppers, duvet and pillows
King size bed
Single bed with pull out bed at 2nd room
Upright bed (extra bed)
In your private bathrooms:
Toiletries
Toilet
Bathtub
Encased Shower Area
Towels and bath mat
Bath robes
Hair Dryer
Facilities
Air Conditioning
Open Dresser
Media & Entertainment
48-inches Smart flat screen TV with Cable channels
High-speed Wi-Fi internet access
Office Equipment & Stationery
Telephone Services
Spacious Writing Desk
Refreshments:
Coffee and Tea set
Electric Kettle
Minibar Chiller
Bottled Water
Hygiene Set-up:
Safety & Security:
Safety Deposit Box
One Tap Key Card Door Lockset
Fire Extinguisher