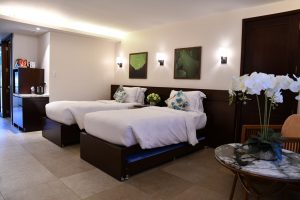 THE GARDEN ROOM INTRODUCTION
The Garden Room, all with comfortable luxurious twin beds with pull-out beds, are situated right next to Anvaya's abundant forest vista, giving you a private verdant hideaway for your personal enjoyment. The rooms' twin glass doors look out into the lush Anvaya forest that provide a constant, refreshing view of Mother Nature.
Anvaya Cove ensures that our members are given a wide array of amenities. A leisurely afternoon could mean enjoying your missed-out movies from our cable-TV or just surfing the web through the freely provided room wifi and LAN internet connections. Prepare tea or coffee at your pleasure, have a hassle-free snack from the well-stocked mini bar, or have a revitalizing drink from the bar fridge.
Contact Us Today!
US Toll free: 1-877-7793-9000
Philippines: (02) 7793-9000
Mobile: (+63) 917-826-8292
Email: members@anvayacove.com
Monday to Sundays: 8AM-5PM (PHT)
THE COMFORT OF HOME CASITA INCLUSIONS
Anvaya Cove ensures that our members are given a warm, memorable stay within each casita.
Thoughtfully-designed unit layouts
Open and flexible living space
Beautiful outdoor views
Maximized natural ventilation & light
All Rooms are air-conditioned and nicotine-free
TWIN BEDROOMSTHE GARDEN ROOM
MORE DETAILS ROOM AMENITIES
All Garden Rooms are Non-smoking Rooms featuring the very best room amenities:
Twin Beds
Soft Linens
Refrigerator
Mini Bar
Tea & Coffee
Towels
Hairdryer
Iron
Ironing board (available upon request)
Toiletries
Encased shower
Safety Deposit Boxes
Television
Telephone Services
LAN and Wifi Connections