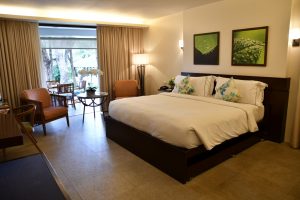 THE GARDEN TERRACE INTRODUCTION
The Garden Terrace offers a fantastic view of a bountiful forest vista, allowing you to feel enveloped in the bustle of Anvaya's plush greens. Relax on a king-sized bed which boasts of soft, luxurious mattresses, as the bird calls of kingfishers and oreoles serenade your surroundings.
The Garden Terrace uniquely provides a breathtaking view of the forest through its balcony, where guests may enjoy the cove's refreshing breeze and beautiful garden views. Anvaya Cove ensures that our guests are given a wide array of amenities. Those looking to kick back and enjoy a leisurely afternoon can watch television, or surf the internet through the room's wifi and LAN connections. Prepare tea and coffee at your pleasure, have a hassle-free snack from the well-stocked mini bar, or have a revitalizing drink from the bar fridge. Cots and pull-out beds are available in any Garden Terrace for your comfort.
Contact Us Today!
US Toll free: 1-877-7793-9000
Philippines: (02) 7793-9000
Mobile: (+63) 917-826-8292
Email: members@anvayacove.com
Monday to Sundays: 8AM-5PM (PHT)
THE COMFORT OF HOME CASITA INCLUSIONS
Anvaya Cove ensures that our members are given a warm, memorable stay within each Casita.
Thoughtfully-designed unit layouts
Open and flexible living space
Beautiful outdoor views
Maximized natural ventilation & light
All Rooms are air-conditioned and nicotine-free
MORE DETAILS ROOM AMENITIES
All Garden Terrace are Non-Smoking Rooms featuring the very best room amenities.
King-Sized Bed
Pull-Out Beds
Soft Linens
Garden Views
Private Balcony
Refrigerator
Mini Bar
Tea & Coffee
Towels
Hairdryer
Iron
Ironing board (available upon request)
Toiletries
Encased shower
Safety Deposit Boxes
Television
Telephone Services
Wifi and LAN Connections