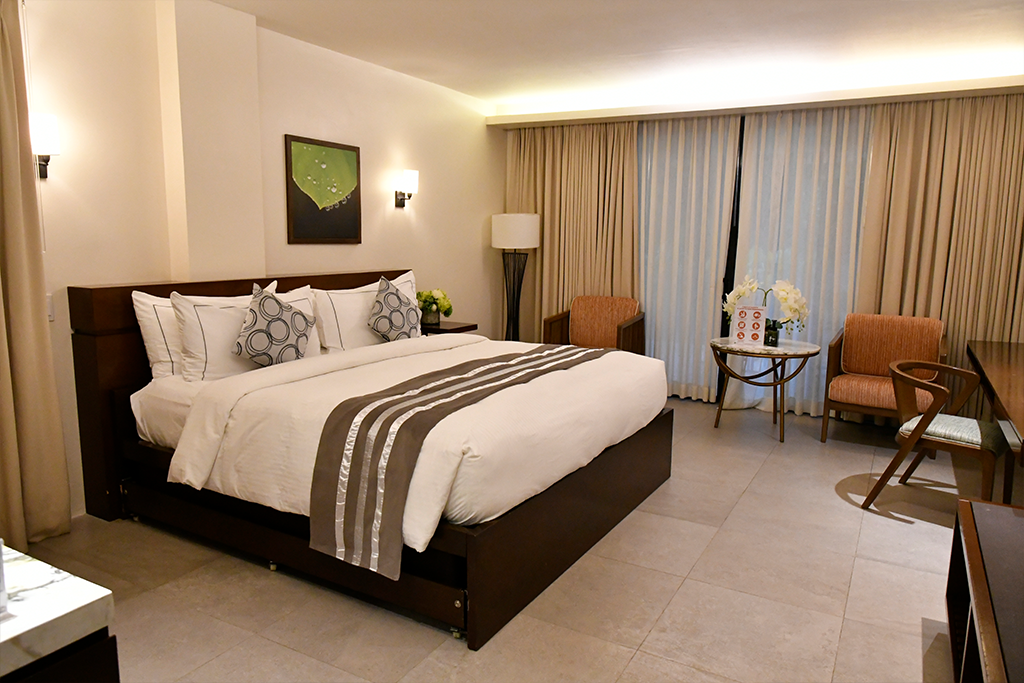 THE GARDEN TERRACE INTRODUCTION
The Garden Terrace offers a tremendous view of the ample garden vista, allowing you to feel enveloped in the bustle of Anvaya's plush greens. Feel free to get cozy on a king-sized bed with soft, and luxurious mattresses.
The Garden Terrace distinctively provides a spectacular view of the lush garden through its balcony, where you may enjoy the club's refreshing breeze and scenic views. Anvaya Cove always set the seal on giving our guests a broad range of amenities that they can always take advantage of. A cozy kind of day could mean watching from our 48-inches smart flat screen TV with cable channels, or just simply browsing on your social media accounts using our high-speed Wi-Fi connection. Prepare your own tea or coffee any time you want, or you may stock drinks of your choice in our mini bar chiller. Cots and pull-out beds are available in any Garden Terrace for your comfort.
Contact Us Today!
US Toll free: 1-877-7793-9000
Philippines: (02) 7793-9000
Mobile: (+63) 917-826-8292
Email: members@anvayacove.com
Monday to Sundays: 8AM-5PM (PHT)
THE COMFORT OF HOME CASITA INCLUSIONS
Anvaya Cove ensures that our members are given a warm, memorable stay within each Casita.
Thoughtfully-designed unit layouts
Open and flexible living space
Beautiful outdoor views
Maximized natural ventilation & light
All Rooms are air-conditioned and nicotine-free
MORE DETAILS ROOM AMENITIES
All Garden Terrace are Non-Smoking Rooms featuring the very best room amenities.
50.4 sqm
Views of Garden
Connecting Door
Veranda
High-speed Wi-Fi internet access
In your bed:
Feather toppers, duvet and pillows
King size bed with pull out beds
In your private bathrooms:
Toiletries
Toilet
Shower Cubicle
Towels and bath mat
Hair Dryer
Facilities
Air Conditioning
Open Dresser
Coffee Table
Media & Entertainment
48-inches LED flat screen TV with Cable channels
High-speed Wi-Fi internet access
Office Equipment & Stationery
Telephone Services
Spacious Writing Desk
Refreshments:
Coffee and Tea set
Electric Kettle
Minibar Chiller
Bottled Water
Hygiene Set-up:
Safety & Security:
Safety Deposit Box
One Tap Key Card Door Lockset
Fire Extinguisher