HEALTH & WELLNESS
VEDA SPA
Operating Hours:
2:00PM – 10:00PM Weekdays
10:00AM – 10:00PM Weekend
With its simple but stylish wood-and-stone design, Veda Spa helps you both return to nature and feel at your most energized and comfortable. No trip is complete without an exquisite and indulgent spa treatment at the Veda Spa! The Veda Spa offers a wide array of world-class pampering services, ranging from the popular Shiatsu and Swedish massages, aromatherapy, and relieving facial treatments. Avail of our sauna, where the relaxing heat of simmering rocks opens your pores and gets you ready for a soothing massage. Walk down a winding rocky footpath and discover the secluded massage center, where your privacy is well-respected.
THE VEDA SPA FACILITIES & AMENITIES
Each massage room has a private adjacent shower, divided by sliding doors, curtains and a firm massage bed with a head and arm rest. You can also lounge on the in-room couch and enjoy a cup of hot green tea after a relaxing massage. The Veda Spa offers treatment services inside the casitas and has a beachside massage hut where one can feel the breeze upon each gentle stroke by our trained therapists.
VISIT THE VEDA SPA SERVICES & PACKAGES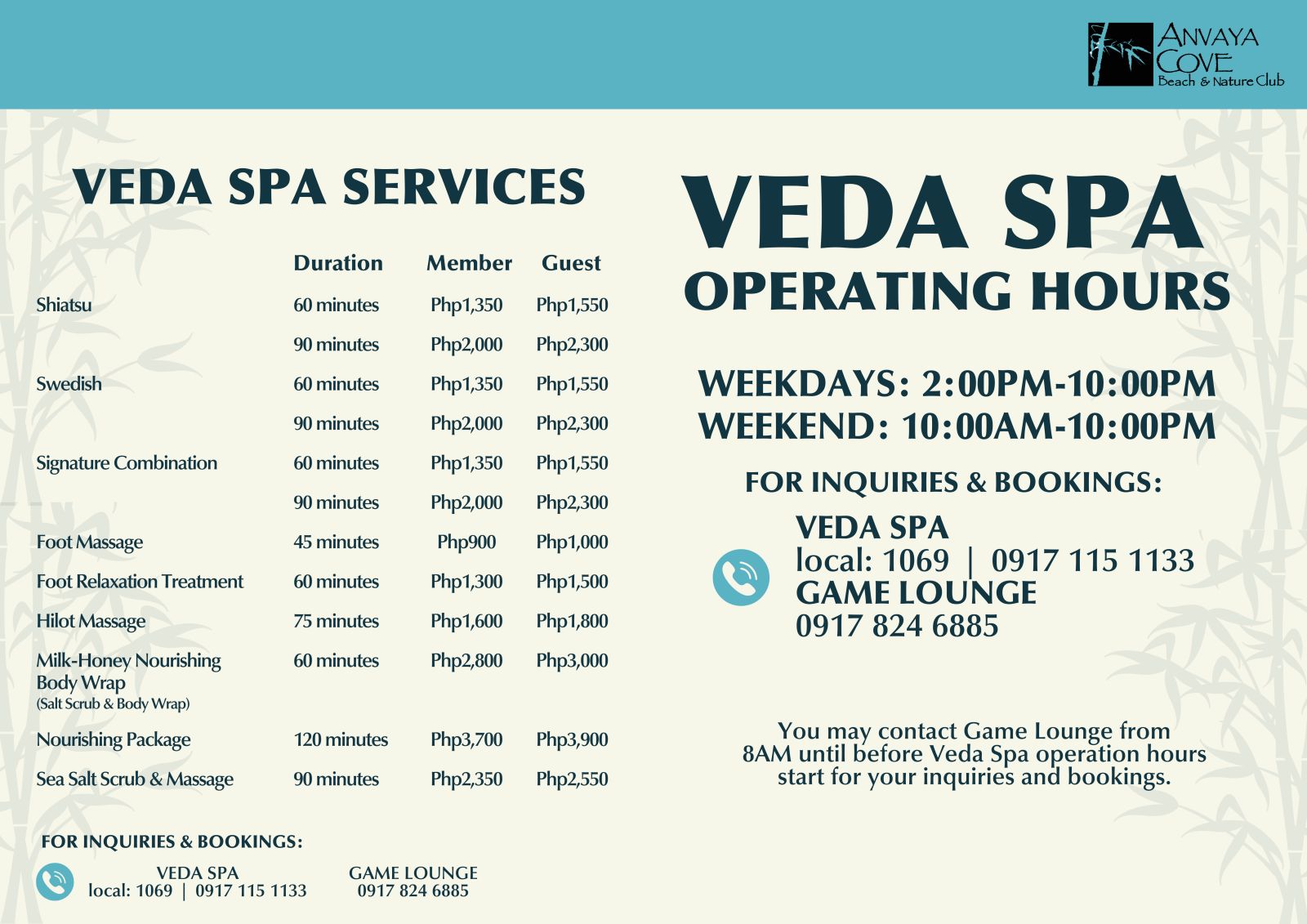 Need a Reservation? Book an appointment
Want to treat yourself to a Spa Weekend? Book an appointment and pamper yourself for the week! Don't worry, we are just a phone call away! Contact us through our contact numbers or send us a message on this website to make a tentative booking.
Operating Hours:
12:00NN – 10:00PM (Monday – Thursday)
10:00AM – 10:00PM (Friday – Sunday/Holidays)
Mobile No. & Viber:
0917-115-1133